ENID, Okla. — Enid could be diving head-first into a drought like the one Oklahomans experienced in the first half of the 2010s, a water planning consultant with a long history of working for the state says.
Duane Smith, former executive director of the Oklahoma Water Resources Board and leader of the Northwest Oklahoma Water Action Plan, said the city of Enid has to plan for the "worst-case scenario" in a future water supply, as it nears construction of its long-planned Kaw Lake water pipeline project.
"Water is pretty much everything, and when you think about it, we can talk about all the different issues, but if we don't have clean, good water, Enid's not here," Smith said in a presentation Thursday, before asking, "Doesn't it make sense that we look at a reliable water supply for our future?"
Glasses of water sat largely untouched on tables at Oakwood Country Club for the Enid Regional Development Alliance's first quarterly luncheon, as Smith told the room of business and city leaders that preventing a city's future economic devastation is the biggest reason to plan for water.
Smith said the state can also expect less warning going into droughts.
"We're going to go into those droughts faster than we did before," he said.
January 2022 shows a forecast below normal precipitation — just a tenth of an inch has been recorded in Breckinridge so far this year, compared with 0.37 inches the same time in 2021.
Smith said by March, the area is expected to receive 180 days of rainfall below a quarter of an inch.
Dryer-than-normal conditions are expected through the next couple months, he said. December 2021 was the warmest month and 2021 the warmest year on record at over 10 degrees above normal, since 1895.
"If you're in Northwest Oklahoma, you're going to live through a drought, right?" Smith said.
Preventing effects from a future drought equal to or worse than the one a decade ago ultimately has led to city officials taking on the massive Kaw Lake project.
Building the project's 70-mile pipeline, treatment plant and other sites has been nearly 10 years in the making. With an approved budget of around $313 million, the infrastructure project is reportedly the largest in the city of Enid's history. It's also attracted criticism from citizens and legal disputes from landowners over whether it's necessary or even constitutional.
Smith said the city is asking its citizens to pay for infrastructure they've never needed in their own lifetimes.
"I believe that is part of our problem in planning for water," he said. "We hear about it, we haven't lived it. We have gotten complacent about water. It is our future, and the entire future of Enid depends upon our ability to get a reliable water supply."
Even extreme drought episodes are routinely interrupted by annual periods of above- normal rainfall, he said.
Mayor George Pankonin said Smith's Thursday presentation was one of the best he'd ever seen talking about the drought from the early-2010s, agreeing that cities in Oklahoma needed to be prepared for future losses of water during another drought.
"It's not a matter of if, it's a matter of when," he said.
The recent statewide drought in question, which started in fall 2010 and lasted through spring of 2015 until a massive rainfall followed, is considered Oklahoma's worst on record since the 1950s.
Gary McManus, state climatologist at the Oklahoma Climatological Survey, called it a "generational drought," with above-average temperatures lasting for five years during a period of inadequate rainfall.
Any drought is an extended period of time without adequate rainfall to meet the needs of a society. Soil moisture goes down, groundwater and lake levels start to decline and fire warnings get worse.
The U.S. Drought Monitor, which began assessing states' weekly precipitation levels in 2000, measures these periods from D1 (moderate) through D4 (exceptional) levels, the latter McManus called a "one-in- 100-year event."
By September 2011, about 70% of Oklahoma was considered to be in D4 level, and summer 2011, from June through August, was the state's hottest summer on record at the time, McManus said.
Oklahoma State University measured about $2 billion in damage to agriculture in 2011 and 2012 because of the drought, and water emergencies were declared in some areas, in big cities like Oklahoma City, Tulsa, Lawton.
"It was a pretty dire situation for us, for much of the state," McManus said. "I lived through it."
Enid had its own water conservation emergency beginning in 2012, re-introduced intermittently until 2015 when efforts were continued year-round and remain in effect.
However, Pankonin, who lived in Enid during that time, said he didn't think the drought hit Enid hard enough or long enough, leaving many of its citizens spared from the full impact.
People in Enid, he said, tend to remember it as inconvenient rather than as life-changing like during the severe droughts of the 1950s and 1930s.
The latter decade's resulted in the infamous Dust Bowl, while the 1957 drought is considered the worst on record, after which all 27 of Oklahoma's federal reservoirs were formed, as was the Oklahoma Water Resources Board.
"The biggest problem was inconvenience, watering grass on even or odd days, or flushing the toilet for every other person," Pankonin said. "It's kind of short-range thinking. If you're not looking at the cycle like over 100 years, you don't understand that the future could cause us some problems."
Today, 88% of the state is in drought, with 40% again in "exceptional drought" level, McManus said.
"It's not good at this time," he said. "There's not a lot of hope for relief right now."
City officials decided around the beginning of the drought that more planning was needed to secure the city's water source for the next half century, City Manager Jerald Gilbert said.
"Without water, the city doesn't have much of a future," Gilbert said Saturday.
However, Guernsey, an engineering firm, had already been commissioned to create a water master plan of the city's future water source, which it completed in 2009 with suggestions to look at other areas. Water was being abstracted from city well fields in excess of the underlying aquifers' "recharge" rate from periodic rainfall, according to the report.
"I think that around that time, (the drought) just reinforced that decision that was already in motion," Gilbert said, recalling days in 2015 when the city's water production department would show water tank levels measured by the foot not replenishing at the service center.
"Those are the kinds of moments I can remember at city hall, that there were those concerns about our ability to provide resources during a dry period," he said.
Ben Ezzell, who served on the Enid City Commission in the tail end of the drought, said the inadequate rainfall brought the commission to look for a new water resource beyond the Cimarron River Terrace Aquifer, from which much of the city's water is currently tapped.
"It was clear that climate change was going to exacerbate the problem in the coming decades," Ezzell said, "and that we couldn't continue treating the Cimarron Terrace aquifer as a bottomless resource."
The city receives water from a total 166 wells — two-thirds of which currently rotate in operation — in five well fields tapping three aquifers around Northwest Oklahoma such as Ringwood, Cleo Springs and Drummond.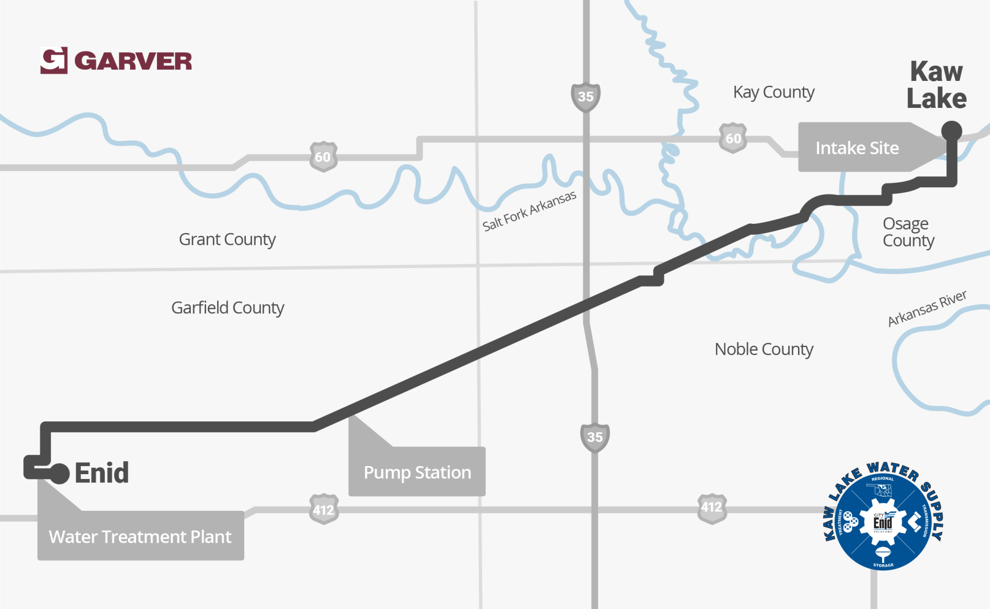 After two more reports from Guernsey over the next five years, city leadership concluded in 2014 that tapping Kaw Lake was the ideal available water resource — rather than developing aquifer well fields west and south of Enid and improving the pipeline system; or constructing one of three possible lakes from around either Hennessey, Lahoma or Sheridan.
Guernsey reported that lower initial project costs and an area climatology less susceptible to drought conditions than Northwest Oklahoma warranted Kaw Lake as the ideal source site.
As Smith reported during his presentation Thursday, Kaw Lake is currently at normal water elevation.
"That's been the history of that lake, is that it's always been near capacity," Gilbert said.
Over the span of two years, commissioners took several major steps as the half-decade-long drought began to wind down — increasing water utility rates, selecting a design firm to manage the Kaw Lake project, then approving an election for a sales tax increase and continuance that'd fund the pipeline project.
Utility rates haven't been manually adjusted through ordinance changes since then, with built-in increases going up 2% each year for today's base $12.26 for the first 1,000 residential-use gallons.
Construction finally began last spring on the project's intake site at the reservoir, while ground was broken on the city's new surface water treatment plant in November.
Gilbert said along with currently sustainable yields from Enid's five major water well fields, the city expects to have a major supply of water for the next 50 to 100 years.
"(Future Enid residents) probably won't even give a second thought about this project, just like we don't think much about the waterline that was put in in 1982," he said. "Water's something we take for granted until you don't have good availability."
Article by: Alexander Ewald, Enid News & Eagle 1.23.22
Photo by: Billy Hefton, Enid News & Eagle