ENID, Okla. — A planned back half of the Stonebridge Addition's residential neighborhood would triple the number of homes in the recently developed area.
Forty-five more lots intended for single-family homes are located in the second subdivision of the Stonebridge Additions, northwest of the Cleveland and Chestnut intersection, with 24 already in the first.
Final site plans for the subdivision in the 32-acre addition will go to Enid city commissioners for approval next month before construction can begin.
Members of Enid Metropolitan Area Planning Commission voted unanimously Monday to recommend the final plat of the second addition of tract 1 in the Stonebridge Planned Unit Development (PUD).
Enid City Commission members will vote to approve the final plat next month at their Dec. 7 regular meeting. The developer, Waukomis-based AC Development LLC, will then be responsible for building road, water and sewer access.
The subdivision plat then would be filed with Garfield County, after which the city will be able to issue building permits for the addition.
Initial development began in 2014 on the first addition, called Villages of Stonebridge.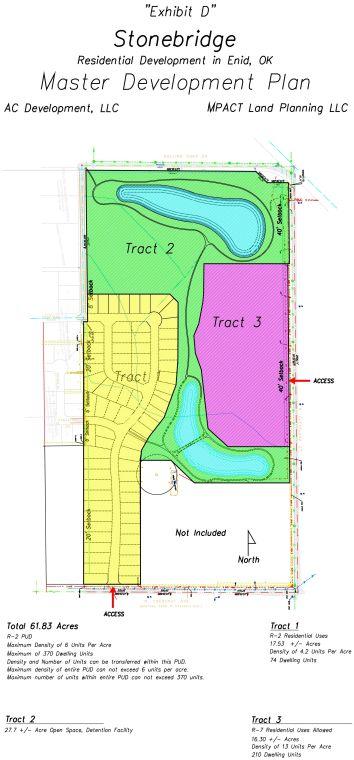 Stonebridge is divided into three overall tracts. The first and third tracts are residential areas — the latter is the 200-unit Esplanade Apartments at Stonebridge. The second is a drainage detention facility running between the two tracts. A commercial retail space, with a Wal-Mart Neighborhood Market and an office complex, sits at the northwest corner of the street intersection.
Housing is intended for "multi-generational living," including families, young adults, single parents and seniors, according to the design plan that city commissioners approved as part of the PUD in 2014.
The developer would establish a homeowner's association, with covenants, conditions and restrictions filed with the county clerk, prior to selling single-family lots.
As required by the developer, exterior building wall finish on all single family structures must consist of a minimum 70% brick veneer, rock or stone. Exterior building wall finish on all multi-family structures shall consist of a minimum 35% brick veneer, rock or stone. Parking and maneuvering within a private street right-of-way would be permitted.
Article by: Alexander Ewald – Enid News & Eagle 11.16.21